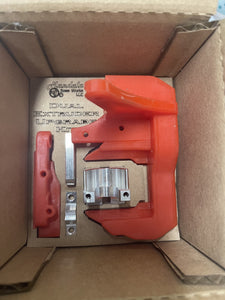 UPGRADE THE S/D CARRIAGE TO DUAL EXTRUSION
$100.00

$100.00
The Upgrade Kit contains the following item:
- Adjustable Rail
- Adjustable Groovemount (fits on rail)
- Clip
- (optional) Dual Extruder Fan Shroud
Items required to use this kit: S/D Carriage (see suggest links below this listing)
PLEASE NOTE:
1) The other resin shroud we sell WILL NOT work for running dual extruders. You need a special dual extruder fan shroud.
2) The upgrade kit does not include an S/D Carriage, that must be purchased separately. (We have separated the upgrade kit from the Y Carriage and reduces the price of the upgrade kit by the amount of the S/D Carriage.

If purchasing the Dual BMG Direct Drive Kit in conjunction with the Dual Upgrade Kit, use discount code "1MVXHJ81_DEUPGRADE" for 10% off your joint purchase.
---
Delivery policy
We ship within one business day. Message us if your country is not available, and we will add it.
---
---
We Also Recommend