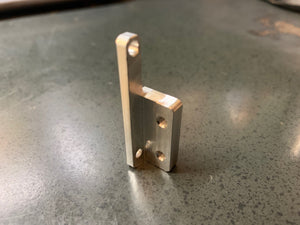 Shroud Mounting Bracket (Railcore® Mini / 713 Version)
$12.00

$12.00
There have been many requests for metal mounts for the James Tongue Mandible Shroud, so we have come up with this. No longer is there a need for nuts, as the necessary holes are tapped with m3 threads!
This one is compatible with the machined Railcore® Mini Y Carriage and 713 Y Carriage.
PLEASE NOTE: These adapters are ONLY for the ALUMINUM fan shrouds, if you have a fan shroud for the printed carriage, aka the kit fan shroud, these adapters will not work.
Railcore ®️ is a registered trademark of RailCore labs, LLC
---
Delivery policy
We ship within one business day. Message us if your country is not available, and we will add it.
---
---
We Also Recommend