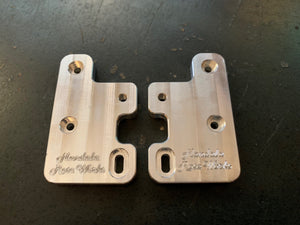 Magnum Idler Mounts
$20.00

$20.00
The magnum idler mounts are a great addition to any Railcore®, as they remove the overhang on the left side of the printer and move the Idlers INSIDE the volume of the printer. It shortens the belt significantly by 6-8 inches.
One of the benefits of this is that it's going to be even easier to enclose the top of the printer using the enclosure which is available from Mandala Rose Works at our Top Enclosure Page.
PLEASE NOTE: You will need to use an 8mm bolt instead of a 10mm bolt to install these due to the countersunk holes.
Railcore®️ is a registered trademark of RailCore labs, LLC
---
Delivery policy
We ship within one business day. Message us if your country is not available, and we will add it.
---
---
We Also Recommend