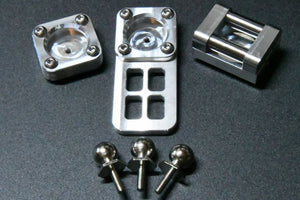 Kinematic Mounting Kit without Strain Relief
$74.00

$74.00
Our Kinematic Mount Kit for the Railcore® Mini provides you all the parts and hardware necessary to convert your yokes and bed to a kinematically coupled system for the purposes of handling the themal expansion of your bed as it heats up.
This kit is the same as our existing Kinematic Kit, with the main difference being that this kit does not include a strain relief mount.
Our Kinematics are based on the Kelvin style kinematics, and include 150C N48SH magnets to maintain the connection of the bed to the yokes.
In addition, our coupling for the right side of the printer includes strain relief for the bed cables.
In your kit, you will receive adapters for each of the yokes (2 fixed mounts and a pin mount), 3 - 9.5mm threaded balls, 3 magnets, and all necessary hardware for assembling and attaching them to your printer. We have also included a detailed instruction sheet, which can also be downloaded from here.
Railcore®️ is a registered trademark of RailCore labs, LLC
---
Delivery policy
We ship within one business day. Message us if your country is not available, and we will add it.
---
---
We Also Recommend