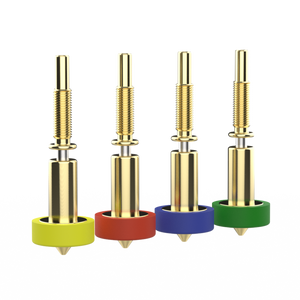 E3D Revo Spare Nozzle
$20.00

$20.00
Discover E3D's Revo Nozzles for your 3D printing extrusion system, for hassle-free nozzle swaps without the need for tools or hot tightening.
Swap your 3D printer's nozzles in less than 60 seconds without tools or hot tightening – just use your fingers! If you can unscrew a tube of toothpaste, you can use a Revo Nozzle. Just screw one into any Revo cold side and you're ready to 3D print.
Compatible with Revo cold sides, including Revo Six, Revo Micro, and Revo Hemera
No need to hot tighten – each Revo Nozzle is a factory-assembled nozzle and heatbreak in one · Works with a Revo HeaterCore for faster heat-ups and greater efficiency than most HotEnds on the market
Compatible with popular FDM 3D printers, such as Creality, Ender, Prusa, Anet, Biqu, Monoprice, and many more
READY FOR REVO
EXPERIMENT FREELY.
With nozzle swapping this easy, you're free to experiment with nozzle sizes you might not have used before. Set your 3D printer up for ultra-fine or ultra-thick extrusion widths in no time at all. Print large objects in less time, or tiny objects with high resolution.
FRUSTRATION-FREE.
Each Revo Nozzle is a preassembled nozzle and heatbreak in one unit, so there's no hazardous hot tightening and no chance of incorrect assembly. Say goodbye to frustrating HotEnd leaks and enjoy reliable 3D printing!
RAPID IDENTIFICATION.
Identify nozzle sizes at a glance thanks to a color-coded silicone sock. Plus, each Revo Nozzle has its size engraved into it with easy-to-read numbers, so there are no confusing identification markers to learn!
AN EXPANDING RANGE.
We're ready to make RapidChange Nozzles in any size. At launch, we're introducing brass nozzles in 0.25mm, 0.4mm, 0.6mm, and 0.8mm, with many more compatible nozzles to follow later. Wear-resistant and high-flow variants are already on our roadmap and will follow over time.
KEY FEATURES
MATERIAL COMPATIBILITY

1.75mm
MOUNT SYSTEM
RapidChange™ Revo™
RapidChange Revo compatible
Disclaimer: Revo Nozzles are an entirely new ecosystem, so are not compatible with V6-style heaterblocks


DIMENSIONS
Diameter: 13mm
Overall length: 41mm
---
Delivery policy
We ship within one business day. Message us if your country is not available, and we will add it.
---
---
We Also Recommend