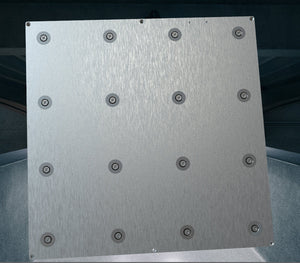 VZBot 330 ULTRAFLAT BED
$164.00

$164.00
The VZBot 330 Bed from Mandala Rose works is now available.
Our beds are made from 5083 Cast Tooling Plate and are 9mm thick and measure 330x330mm.
What does this mean to you? Our flattened beds are flat to 0.1mm (though they are typically closer to 0.1mm out of flat!) The flattening option for a bed this large is not cheap though. We do not mark this up, and pass our cost directly on to you. 
We are offering these beds in standard or magbed configurations. Our VZBot330 magbeds boast 16 N48SH magnets which are rated for 150C!
These beds are machined once an order is placed, so please allow 5-10 business days for us to ship.  We are typically much faster, but in some cases the machine we make these on may be occupied by other orders.
IMPORTANT NOTE: If at any point you decide to remove the magnets, first of all, when reinstalling the screws, turn the screw backwards until you feel the threads in the screw jump the threads in the bed. Once you feel that little bump, turn the screw in until it gets to the "screw stops turning point" with zero strength behind it. Once the screw has stopped turning, tighten it 1/32nd of a turn and NO MORE. Overtightening WILL shatter the magnets.
---
Delivery policy
We ship within one business day. Message us if your country is not available, and we will add it.
---
---
We Also Recommend