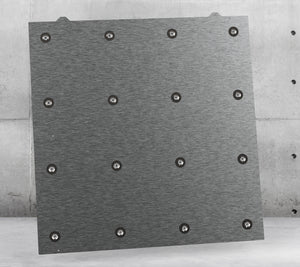 Troodon 400 Bed
$267.00

$267.00
We are extending the pre-order window to 9/5/21.
The A3DP Magbed for the Troodon 400 is designed by Robert Luciani, Jake Allen and Darryl Park in collaboration with manufacturer Mandala Rose Works.
The Troodon 400 Magbed sports 16 high temperature magnets available in 150C and 11 lbs holding force (recommended) or 350C SMCO with 7lbs of holding force.

Our magbeds are milled from .35" (9mm approx.) 5083 cast aluminum alloy tool plate.The casting process for the material means fewer internal stresses that cause warping with other type of plate stock. This also allows us to go one step further, and flatten our bed, giving you one of the flattest magbeds available.
We recommend you use Subtle Design or BuildTak flex sheets on our beds, but any 0.5mm flex sheet should work just fine.
The magnets will likely cause interference with the bed probes. If using a BLTouch, please use the plastic tipped BLtouch bed leveling probe, and avoid probing directly over the magnets.
IMPORTANT NOTE: If at any point you decide to remove the magnets, first of all, when reinstalling the screws, turn the screw backwards until you feel the threads in the screw jump the threads in the bed. Once you feel that little bump, turn the screw in until it gets to the "screw stops turning point" with zero strength behind it. Once the screw has stopped turning, tighten it 1/32nd of a turn and NO MORE. Overtightening WILL shatter the magnets.
---
Delivery policy
We ship within one business day. Message us if your country is not available, and we will add it.
---
---
We Also Recommend