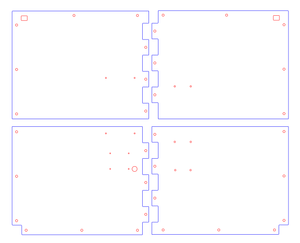 RatRig VCore 3.1 V2 IDEX Electronics Panels
$75.00

$75.00
Now available are the IDEX Electronics Panel for the RatRig VCore3.1 line of printer!
This listing is for just the IDEX Electronics panel for v3.1 of the V-Core3 printer.  
The Black ABS is textured on one side, and smooth on the other side. The Textured side is orientated to go toward the inside of the printer, with the shiny side being towards the electronics bay.

Split panels for the electronics panel is the only IDEX electronics panel available at this time.  Frame mounting holes are provided.  
We are producing as orders arrive.  Turnaround time on a panel order is 2-10 business days going forward.  
---
Delivery policy
We ship within one business day. Message us if your country is not available, and we will add it.
---
---
We Also Recommend