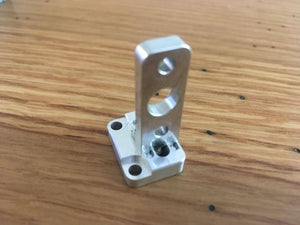 BLTouch Mount
$24.00

$24.00
We have finally come up with a BLTouch Mount that checks all our "want" boxes, so we are happy to introduce you to it!
Our goal was to produce a mount that was rigid as well as adjustable. No more need for spacers!
It is compatible with all of the various Y carriages available for the Railcore®. Even the Hemera Y Carriage on the hotend side. We are working on a new mounting solution for machined mount for the rear mount position.
The BLTouch mount comes pre-adjusted to a good starting position, but should you need to adjust it, just loosen 1 screw, slide it to a different position, and tighten it down. Quick, easy and simple! Total movement of the mount is approximately 7mm.
Railcore®️ is a registered trademark of RailCore labs, LLC
---
Delivery policy
We ship within one business day. Message us if your country is not available, and we will add it.
---
---
We Also Recommend