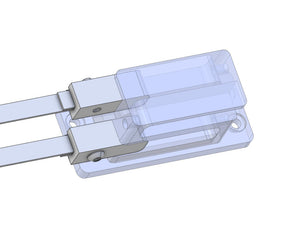 Lower Belt Retainer Clips
$0.00

$0.00
Hello Everyone! I just wanted to let everyone know that we at
Mandala Rose Works
have an update to the Belt Retainers and Clips for the Railcore®. One of our customers came to us with an issue he was having, and felt that the belts on the lower part of the belt retainer were too low. We checked our original cad for these and they were still correct. So, we downloaded the latest model of the Railcore® and inserted the metal bits, and found that there was indeed a small misalignment, which we have now corrected.
To rectify this, we have made a lower set of belt clips for our Belt Retainer and Clips kit. It moves the belts up 2mm. This does change the orientation of the lower clip. Basically, the bolt goes in from the threaded end of the lower belt clip, however the threads still hold the belt very tightly. Please see the
new instructions
linked on the page for the lower clips in order to see the correct orientation to install them.
We are offering these up for free for the cost of shipping.
We have added these to our stock belt retainers and clips.. These changes do seem to help with some of the ripple issues as well.
Essentially, when the Y carriage get's close to the Y0 and Y300 coordinates, it was moving the belt towards the edges of the pulleys which caused the teeth to jump on the edges of the pulleys.
The lower clips are marked with the word Lower for easy identification.
I also want to extend Discord:@cledbetter thanks for bringing the issue to our attention, and helping to come up with a fix as well as testing it.
Railcore®️ is a registered trademark of RailCore labs, LLC
---
Delivery policy
We ship within one business day. Message us if your country is not available, and we will add it.
---
---
We Also Recommend